Large Ice Pack No Wrap: 15″ X 11″
Large Ice Pack No Wrap 2 Pack: 15″ X 11″
Half-size Ice Pack No Wrap: 5.5″ X 7″
Half-size Ice Pack No Wrap 2 Pack: 5.5″ X 7″

All Ice Packs: Store in the freezer for 2 hours to freeze gel. Do not put in microwave. This ice pack is specifically developed for cold therapy. This is reusable. Do not apply directly on the skin as that can cause frostbite. Apply with towel, elastic wrap, or shrink-wrap. Apply after physical activity to the area of pain. Two to three times per day, and 20-30 minutes per session.

Cold therapy is recommended for the first 48 hours following the injury. Store the gel pack in the freezer for at least 2 hours
Hot therapy should not be used until 48 hours after the injury. Hot Water Heating Immerse pack in the hot water for approximately 10 minutes Microwave Heating Heat at full power for 30 seconds
Built to stay cold while molding to your body for faster recovery. Apply pack for up to 20 minutes max at a time. Great for: Ankle Sprains, Back Pain Muscle pains, stomach aches, stiff neck Calves, Quads, Sports injuries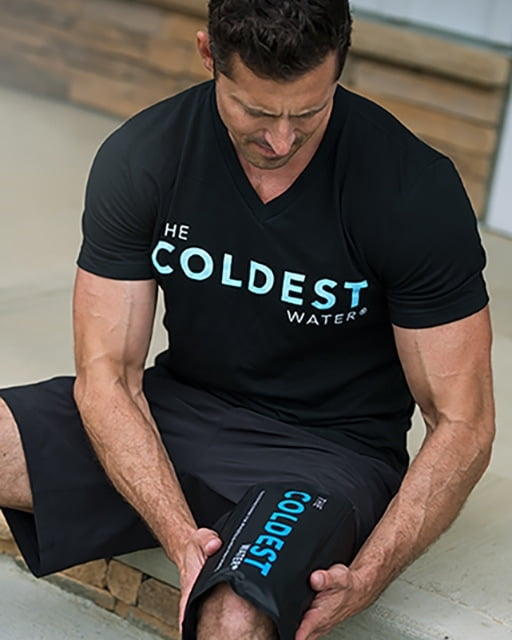 This ice pack is not made to limit to one specific body part, we have engineered it to be able to use anywhere on the body. Wherever it is applied, it will mold to your body making it a multi usable ice pack.
What makes The Coldest Water feel so magical?

The science & engineering behind the scenes.
Most products you have are average. We hate that. When we build a product, we look to re-think how we can do it better, colder and more superior. We are an elite team of engineers based in Naples, Florida working day and night to invent the coldest, most superior products. 5 years later, and many patents filed, The Coldest Bottle, The Coldest Cooler, The Coldest Ice Packs, and The Darkest Coffee was born. Some call it 'game-changing' but we just want to build products we are proud of, that we love and use every day, which ultimately, create less waste for the planet…..
"18 DEGREES COLDER THAN COMPETITION!
-FREAKIN' REVIEWS | YOUTUBE
452K subscribers
Important note: We did not pay, sponsor, solicit, or endorse Freakin' Reviews for a product video review in any way, shape or form. You watch full version 
here
.
All products are backed by The Coldest Guarantee
Free & Fast Returns. No Hassles. More happy.
WARNINGS:
Use extreme caution when using with hot liquids. Depending on altitude, pressure, temperature, and other factors may affect bottle and performance.
Do not apply directly onto skin. Always use shirt, or sleeve, or cloth unless doctor recommended.
If Icepack breaks or leaks, discard. 
Ice pack is not edible.
Apply for 20 minutes at a time with 20 minutes in between.