The people forbid their toddlers to have high-calorie drinks in the form of milk, water, and soft drinks due to health concerns like obesity. Water has become the healthiest, best and most effective solution against sugar and high calories. It keeps you hydrated and completely fit. Are you going to buy some cheap cups or bottles for your kids to meet their drinking needs? You need to count the coldest water bottle in multiple designs, sizes, and features. You must compare these water bottles with other products and conclude whether these suit your junior's needs and expectations or not.
Are Disposable Water Bottles Good?
Disposable water bottles are very best and highly convenient. You can buy these water bottles almost everywhere across the world. But, using these water bottles is a huge waste of your money and resources, while these products contaminate the environment to a dreadful level. In fact, plastic waste takes almost 450 to 1,000 years to be decomposed naturally. Further, people throw 91% of plastic water bottles without recycling.
Americans used almost 50 million plastic water bottles in the previous year. Using these plastic water bottles is increasing a quick burden on our pockets. Furthermore, these products affect the environment largely and can cause many dangerous disorders for human beings and animals during the decomposing process. Switching to alternative, reusable and lasting durable water bottles is the best treatment for plastic water bottle waste.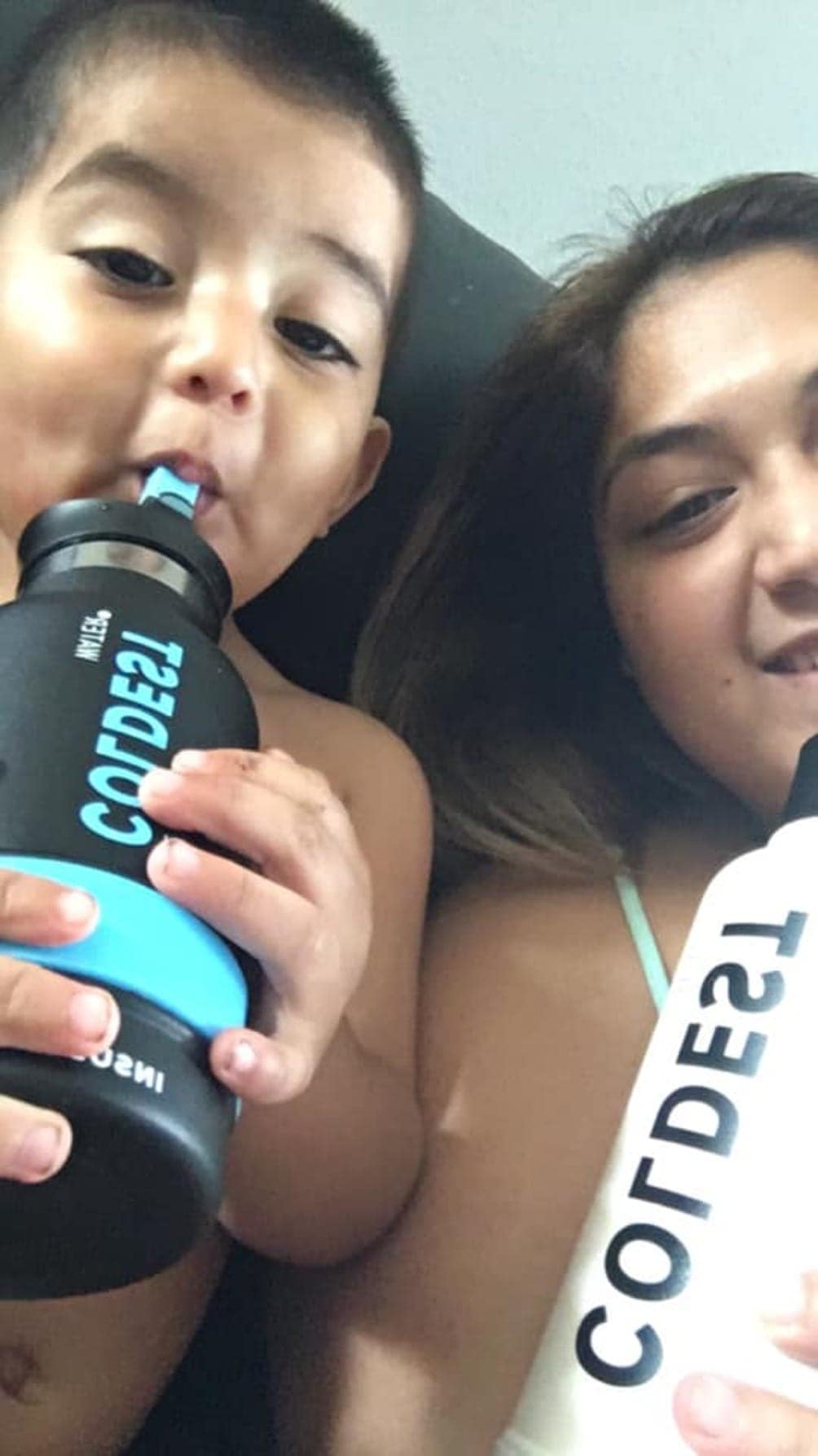 When Should Toddlers Start Using Water Bottles?
In the current, the kids mostly start using specific, colorful and attractive water bottles from their childhood when they start schools. They actually carry water along with their lunch box and have water throughout their school session. They mostly give huge importance to Sippy cups and average sized water bottles with a big and long straw. There are ample of water bottles available for the kids. You will need to consider the following types of water bottles and choose any of these.
Stainless Steel

Aluminum

Glass

Plastic
Best Type of Material:
The material of water bottles for toddlers matters a lot. The parents need to consider all types of materials used in making water bottles for the kids as well as others. You must prefer the material that doesn't bring any BPA threat or chemicals and toxins which the water bottles may mix with potable water for the kids.
Disposable water bottles have BPA scare as well as several chemicals emitted by plastic. Stainless steel and aluminum made water bottles become a bit heavy for the kids. They become unable to carry these bottles after pouring potable water. In fact, all heavy metal water bottles are heavy and typical to be carried by the children.
Glass water bottles have more possibilities of damages. In such situations, you will need to consider all materials and compare them on grounds of their durability, specs, functions, features, sizes, capacity and other qualities. This will help you in choosing the most comfortable and durable water bottles for your kids.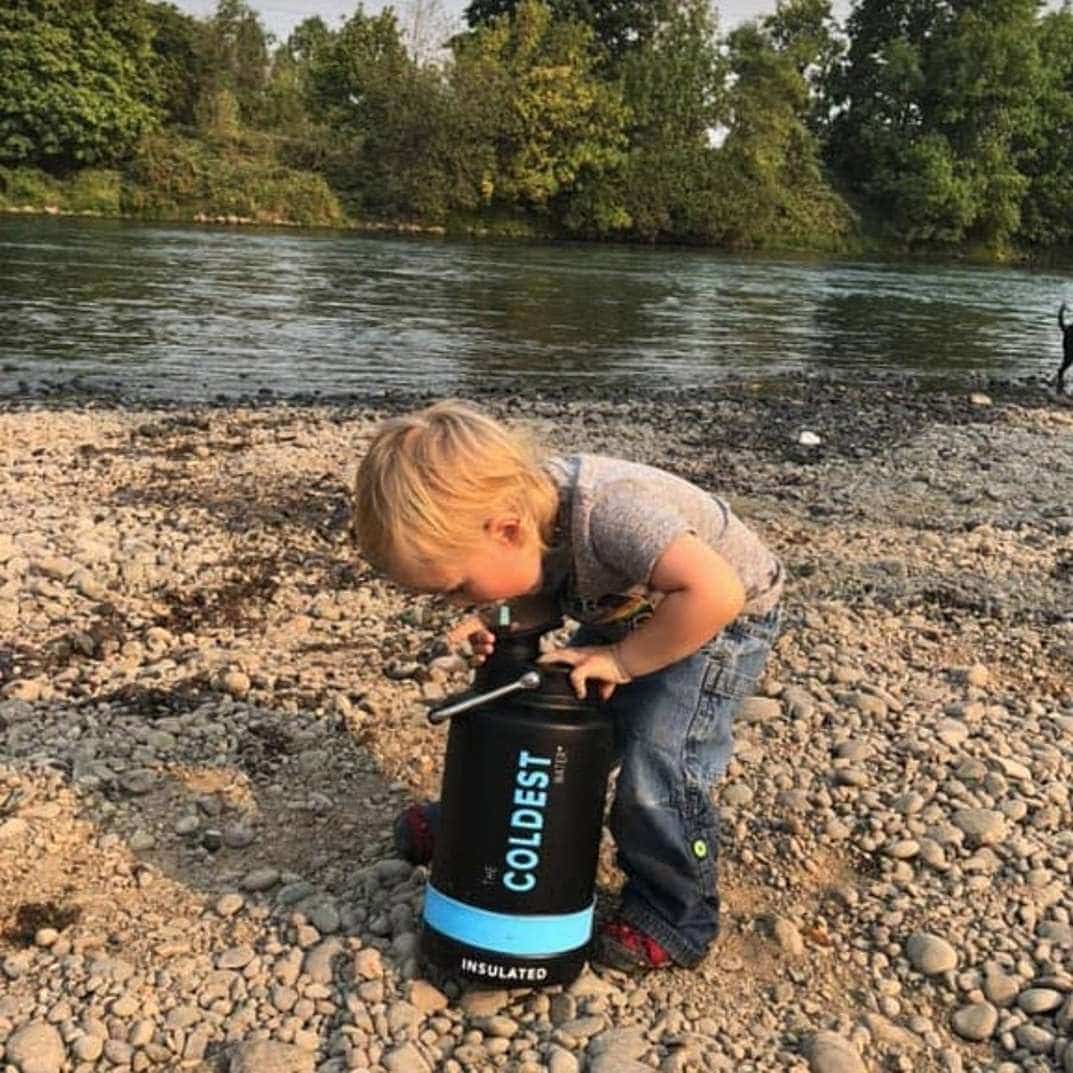 Things You Should Focus on:
Are you going to shop some water bottles for kids? You must focus on some compulsory and key factors. You should consider the following things thoroughly and finally make the right selection.
Weight:
You should prefer a water bottle for your kids which they can carry and move quite easily. The Coldest Water bottle for kids is a perfect option for parents. It is made up of the best quality, 100% BPA, toxin, odor, and bacteria free material with eternal durability.
Cost:
Metal water bottles are a bit expensive than plastic and other products. You must count the price factor when selecting a water bottle. However, you should never compromise on quality, specs, features and safety measures of a bottle with a price.
Durability:
Plastic water bottles are pulpy and they don't last long, Glass water bottles are full of risks. Aluminum, heavy duty plastic and stainless steel are very good water bottles with lasting durability.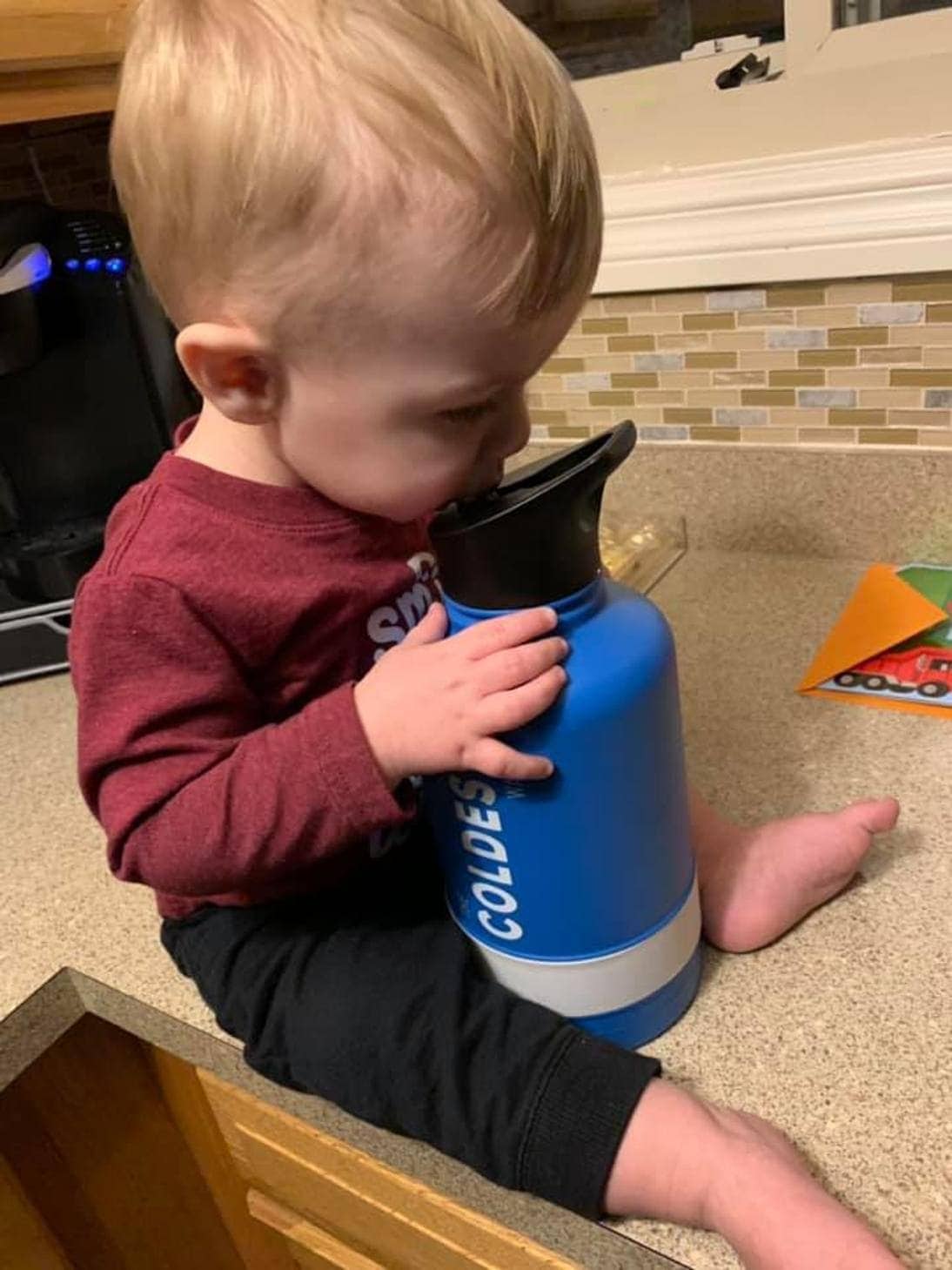 Design:
Appealing designs with monograms. cartoons, characters, slogans and colorful images always arrest the attention of children. They give massive value to such types of water bottles having specific designs. You should consider the choice and liking of your kids when ordering for water bottles.
Capacity:
If your toddlers keep moving on trips and have long-term outdoor activities, then a large capacity of water bottles is fine. You should ignore small capacity and move towards either average or huge capacity of these water bottles as per requirements.
Spout:
Straw in water bottles for kids carries huge worth by little users. They expect for heavy duty, BPA and odor free straws with anti-slipping qualities. In fact, the coldest water bottle for kids is the best one due to a big, flexible and 100% germs-free straw. It is fine for parents to go through the product review, technical specs and other functions of such products before to make a final selection.
Industry Leading Water Bottles for Kids 2019:
There are ample of industry-leading, best and highly recommended water bottles for the kids. You can go through a huge and latest collection of these water bottles made up of a variety of materials and in multiple designs. However, "The Coldest Water Bottle for Kids" has become a worldwide famous and mostly purchased bottle. It carries stunning specs and functions that catch the attention of kids as well as parents at first glance.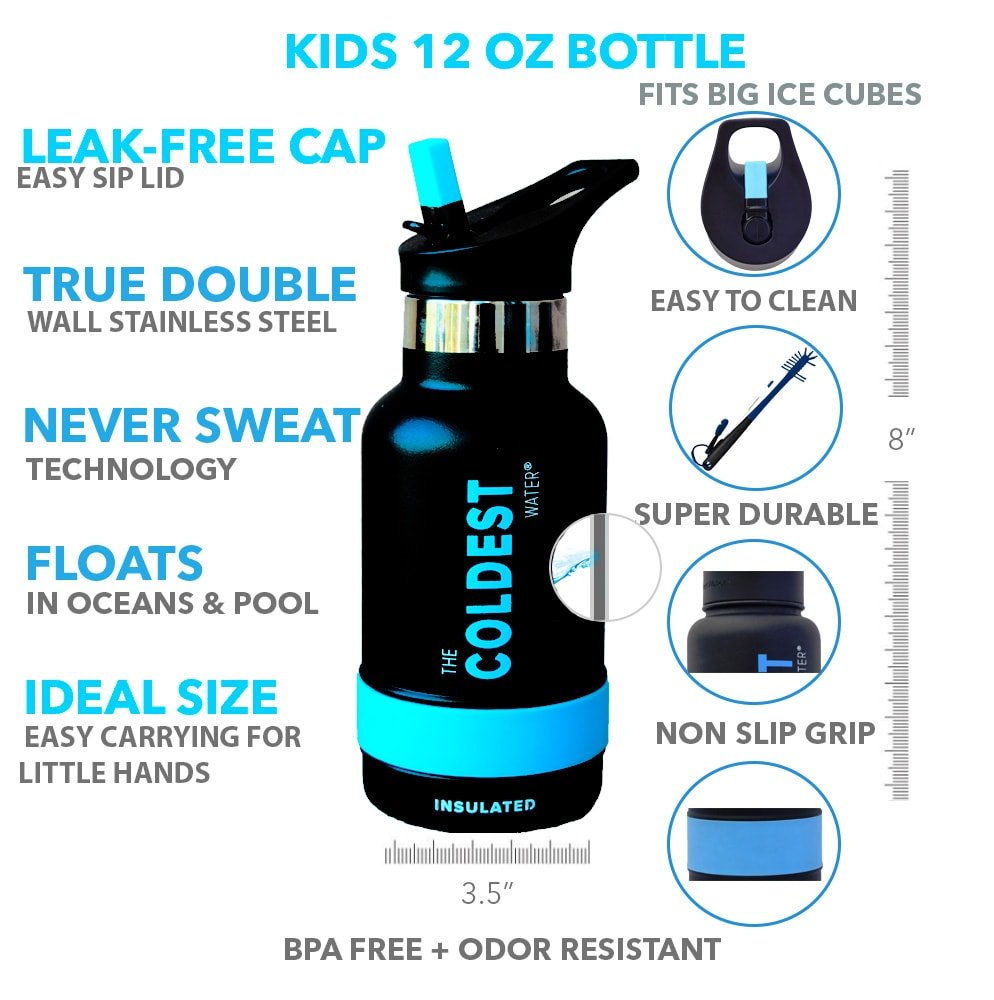 The Coldest Water Bottle for Kids 12 oz:
Basic Detail:
The Coldest Water designed, made and introduced this splendid water bottle for the kids. This little water bottle carries ample specs, unique qualities and many functions that convince parents. This water bottle comes with following basic specs and functions.
The company has more than 6000 positive and original reviews for its products.

Price is $21.99 only.

Free returns and 1-year money back guarantee.

12 oz in capacity and size

Professional and durable design

Completely insulated, double-walled structure

Keeps water cold for the next several hours.

Available almost everywhere in the world

100% American Brand.

2 days for shipping if the order is over $49 etc.
Benefits It Owns:
Keep water cold up to 36+ hours

Hot drinks for more than 13 hours

Anti-sweat technology

Lightweight and can float on water

99% fits all cup holders, cars and bike racks

Big handle with a rubber cap

Double-walled insulated frame

Odor, BPA, and germs free

Reusable and long lasting durability

Perfect size and friendly to drink water etc.

Effects on Environment:
The Coldest Water Bottle for Kids is 100% environmentally friendly. This is a key quality that motivates customers. This water bottle can last longer and is the best for use. Other climate-friendly effects are;
Easy to clean deeply and washable

Reusable and eternal life

100% toxins, BPA, germs, bacteria, and odor free

Bacterial resistant cap with insulation properties

No possibility of leakage

Best quality stainless steel and plastic made

Free returns and replacement if manufacturing defects found etc.