Store in the freezer for 2 hours to freeze gel. Do not put in microwave. This ice pack is specifically developed for cold therapy. This is reusable. Do not apply directly on the skin as that can cause frostbite. Apply with towel, elastic wrap, or shrink-wrap. Apply after physical activity to the area of pain. Two to three times per day, and 20-30 minutes per session. Placing it on:
1. Insert frozen gel pack into the inside of the wrap (there is a pocket on the wrap that fits the gel pack perfectly)
2. Line your knee up with the hole on the wrap and wrap the straps around your leg to your desired pressure
3. Ice pack works best if used while sitting down, since the weight of the ice pack would slide down while standing.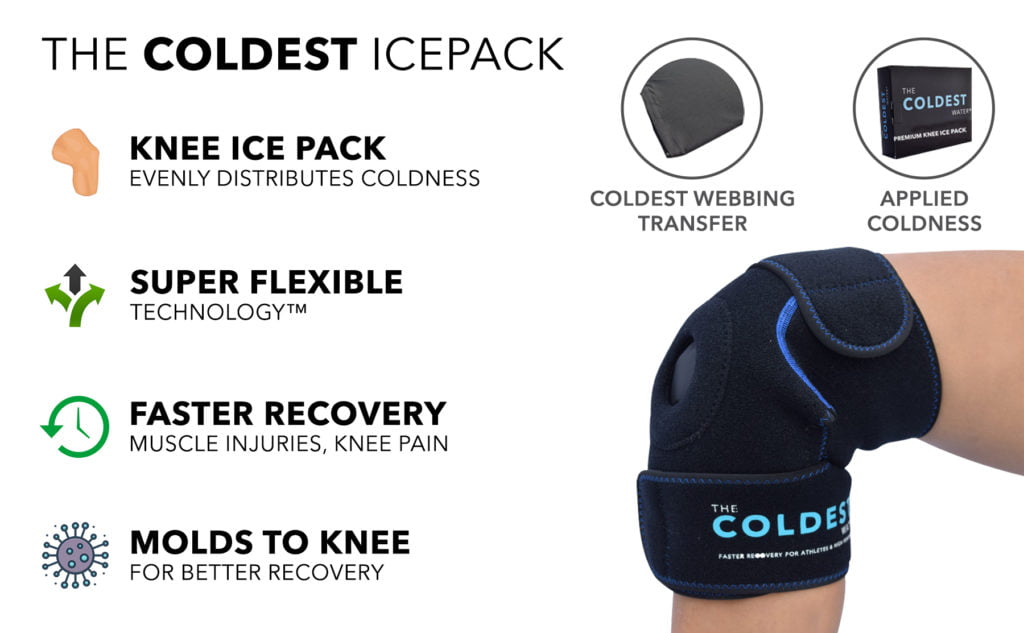 The Coldest Water® knee Ice Pack, (Gel Pack) was initially built for Professional Athletes in high performing sports. We recommend it to all athletes and high performers for pain relief and injury treatment. Don't settle for a less quality gel pack
Knee pain, sore muscles, sports injuries
We've designed the chemistry of the Gel pack to specifically be built for Cold Therapy applications.. Cold therapy is recommended for the first 48 hours following the injury. Also helps with soreness and aches.
Store the gel pack in the freezer for at least 2 hours. Apply for 20 minutes max per application.
Molds to your body and distributes coldness evenly. Whether you play sports like soccer, football, hockey, or are a high performer in business, this was built for you.
REUSABLE: 100% Happiness Guaranteed!
We offer 100% COLD-SOLID Happiness Guarantee. If you have any issues, get in touch with us and we'll always make it right.
What makes The Coldest Water feel so magical?

The science & engineering behind the scenes.
Most products you have are average. We hate that. When we build a product, we look to re-think how we can do it better, colder and more superior. We are an elite team of engineers based in Naples, Florida working day and night to invent the coldest, most superior products. 5 years later, and many patents filed, The Coldest Bottle, The Coldest Cooler, The Coldest Ice Packs, and The Darkest Coffee was born. Some call it 'game-changing' but we just want to build products we are proud of, that we love and use every day, which ultimately, create less waste for the planet…..
Do not apply directly onto skin. Always use shirt, or sleeve, or cloth unless doctor recommended.
If Icepack breaks or leaks, discard. 
Ice pack is not edible.
Apply for 20 minutes at a time with 20 minutes in between.
If you are an athlete or a sportsman, you would have suffered from a lot of injuries while playing. The pain is highly excruciating and the entire injured region becomes sore which makes you unable to go about your daily activities.


When treated in the right way, the minor sports injuries like a sprain or muscle soreness can be rectified in the minimum amount of time. With such minor sports injuries, it is sometimes advisable to use an ice pack on the injured area in the first 48 hours.


The colder the ice pack, the better it is for recovery and pain elimination. Keeping this in mind we have designed the best ice pack for knee which can be great for treating muscle soreness, knee pain, and other common sports injuries.


The knee pack from The Coldest Water needs to be first kept in the freezer for 2 hours after which it has to be applied on the affected area for a maximum of 20 minutes at a go. This is the best product to have if you indulge in playing sports on a daily basis.