All Ice Packs: Store in the freezer for 2 hours to freeze gel. Do not put in microwave. This ice pack is specifically developed for cold therapy. This is reusable. Do not apply directly on the skin as that can cause frostbite. Apply with towel, elastic wrap, or shrink-wrap. Apply after physical activity to the area of pain. Two to three times per day, and 20-30 minutes per session.
Placing it on:
1. Insert frozen gel packs into the inside of the wrap. There are two pockets on the wrap one is for the larger ice pack, which goes on top. The smaller one goes on the bottom.
2. Line your heel up with the small hole on the wrap and wrap the straps around your shins and the bottom wrap around your foot to your desired pressure.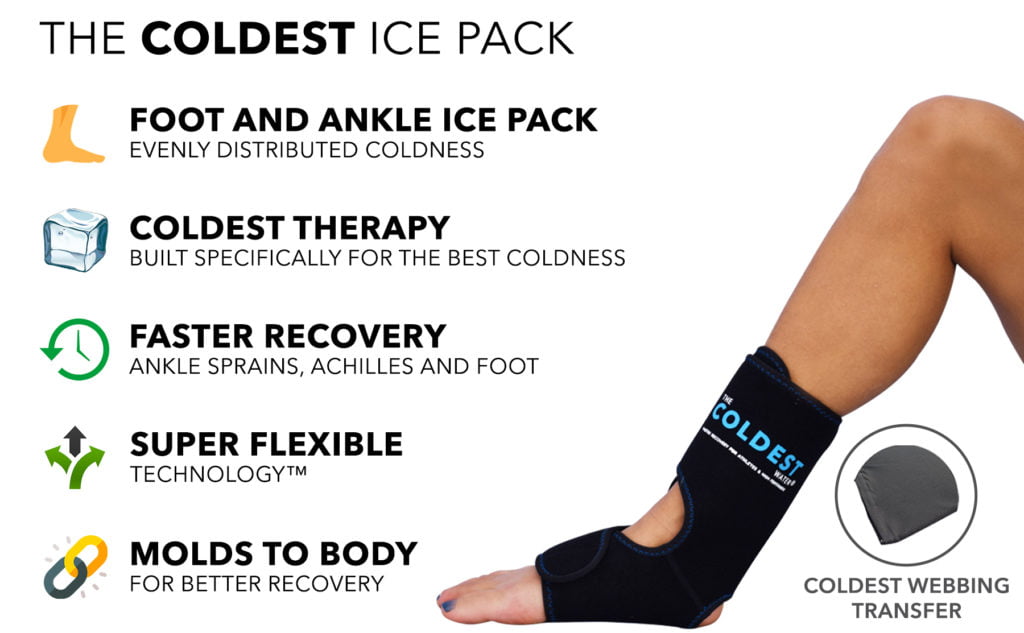 The Coldest Water® knee Ice Pack, (Gel Pack) was initially built for Professional Athletes in high performing sports. We recommend it to all athletes and high performers for pain relief and injury treatment. Don't settle for a less quality gel pack
Knee pain, sore muscles, sports injuries
We've designed the chemistry of the Gel pack to specifically be built for Cold Therapy applications.. Cold therapy is recommended for the first 48 hours following the injury. Also helps with soreness and
Molds to your body and distributes coldness evenly. Whether you play sports like soccer, football, hockey, or are a high performer in business, this was built for you.
If you are a professional athlete or a sportsman, you may have suffered from a sprained ankle quite many times. The Coldest Ice Pack is great during such situations to relieve you from the excruciating pain.
Whenever you suffer from any injury while playing a sport, the first 48 hours are pretty crucial. During these hours cold therapy is highly recommended to get rid of the pain and soreness due to the injury.
This ankle ice pack is made up of premium quality gel which works on helping the user get rid of pain due to an ankle sprain, Achilles injury, shin splints or any other sports injury. This is the best ice pack for sprained ankle and is recommended to all the high performers for treating a sports injury.
This ice/gel pack is built in such a way that it evenly distributes the coldness over the injured area. It is completely reusable and all you have to do it is keep it in the freezer for around 2 hours before application.
We ensure that you would not be disappointed by the effect of this ice pack. 
What makes The Coldest Water feel so magical?

The science & engineering behind the scenes.
Most products you have are average. We hate that. When we build a product, we look to re-think how we can do it better, colder and more superior. We are an elite team of engineers based in Naples, Florida working day and night to invent the coldest, most superior products. 5 years later, and many patents filed, The Coldest Bottle, The Coldest Cooler, The Coldest Ice Packs, and The Darkest Coffee was born. Some call it 'game-changing' but we just want to build products we are proud of, that we love and use every day, which ultimately, create less waste for the planet…..