The Coldest Water Bottle 1 Gallon | An Alternative of Toxic Plastic Bottles
There is a buzz that plastic bottles are destroying our ecosystem. It is absolutely true as the statistics and figures show the increasing trend of plastic bottle utilization worldwide. Do you know around 50 billion plastic bottles are produced every year in the US alone? This is bombastic. According to the researches and surveys, manufacturers worldwide have produced more plastic containers (pipes, water bottles, dishes, plates and others) in the last decade than in the last 100 years. What is the end point of this plastic? Where does it end?
Recycling is Very Famous:
Yes, there is a saying that recycling will save the world from the harms of plastic. Manufacturers and industrialists feel proud when they use term "Recycling" for the plastic. Do you know only 23 % of plastic is recycled? It means that we still have the challenge to decompose the 77 % of plastic. Most of the plastic goes to the oceans while some rest in landfills. Both dumping options are dangerous for the life on land and water.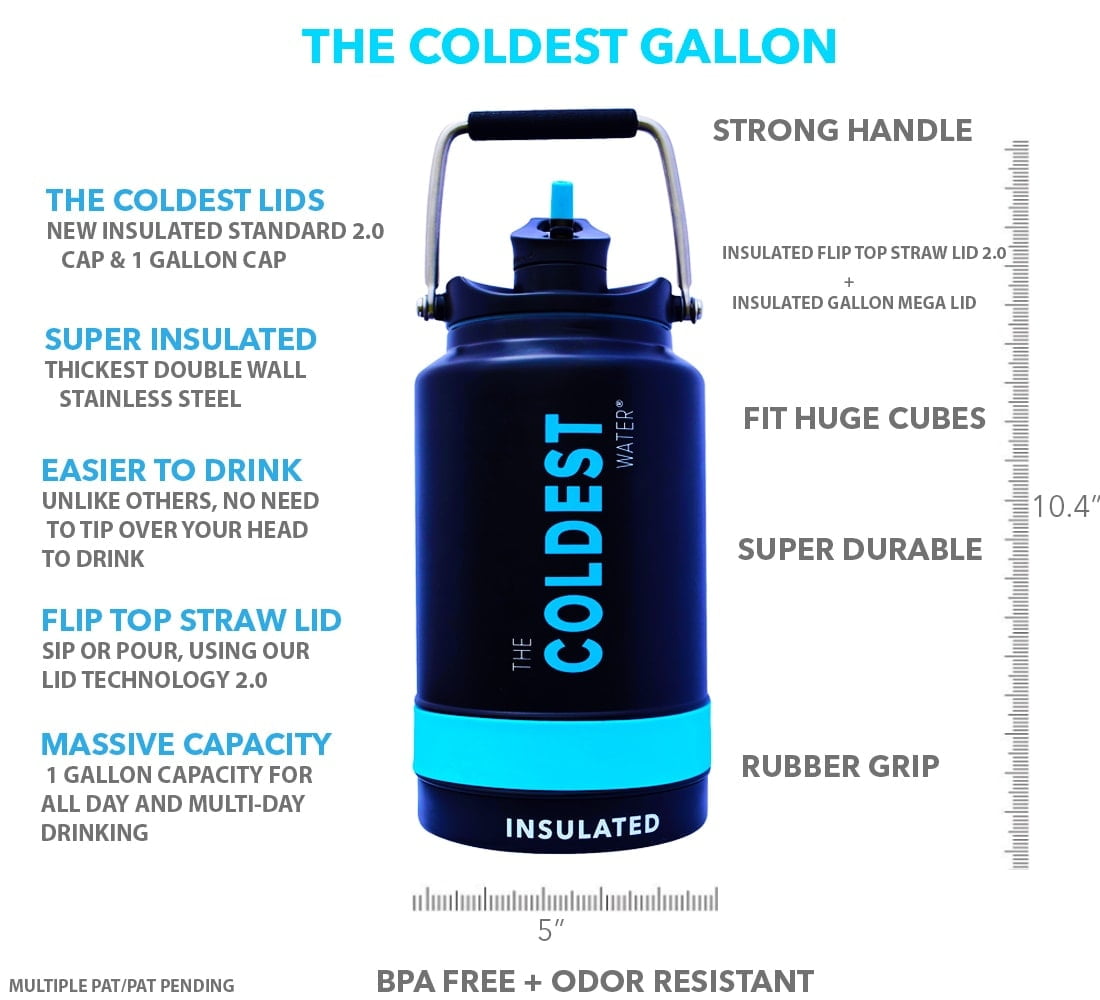 We Announce "WAR" Against Plastic:
The Coldest Water is a proud member of global campaign creating awareness about the dangers of plastic. Fortunately, we also have a solution for this. Try our Coldest Water Bottle 1 gallon which is a great substitute of plastic water bottles. In this way, we have presented an amazing solution for each person at a home or office to carry his own water bottle rather than buying packaged water from the stores.
Uses of the Coldest Water Bottle:
Remember, this water bottle is made of pure stainless steel having double insulated walls. This makes the bottle multiple liquid storages. It is not necessary to use it for water storage only. Now you can keep cold as well as hot drinks in this bottle. Amazingly, it has potential to maintain the temperature of drinks for a longer period. For example, it will keep the water cold for 36 hours. Whether you store juices, water and shakes or coffee, tea and soup, it will keep things in the natural state.
Durable and Solid:
We are proud to say that The Coldest Water Bottle 1 gallon is a solid and durable product. It has a longer lifetime as compared to plastic bottles. Unfortunately, plastic decomposition may take more than 1000 years if optimum sunlight and oxygen are available. There is no need to take risks especially when the dangers are visible. There are thousands of medical reports confirming the negative outcomes of using plastic in daily life. The most important negative impacts include reproductive disorders, cognitive malfunctioning, digestive issues and cancer.
Accept the Challenge:
At The Coldest Water, we invite the sophisticated and sensible people to take their part to save the world. This global campaign will definitely get success in future but your cooperation can lift the speed. It is recommended to change your lifestyle by quitting the use of plastic especially the bottles. Buy the best Coldest Water Bottle 1 Gallon to fulfill your daily needs in a fashionable way.