Recently, Parade Magazine made wonderful research over the best water bottles used by athletes and sportsmen. It exposed many unknown facts about the best water bottles that claim to keep water cold as long as users want. The magazine published some solid and inspiring reasons associated with a quick increase in popularity of the Coldest Water Bottles. It found that these bottles brought amazing features, specs, functions and use for the customers. It was not a casual thing about the best water bottles that Parade Magazine was talking about these products. They conducted many public surveys to find more about "The Coldest Water" and its products. This is a big reality that Coldest Water Bottles 12, 21, 32, 64 oz and 1 gallon bit all rivals in global markets. The products are at the top by their multiple uses and creative features.
How Is This Best Choice?
Many new clients have the same question in their minds. They want to ask whether it is a suitable choice to buy the coldest water bottle or not. Sure, the high-grade stainless water bottle is far better than plastic other best water bottles. The Coldest Water utilized specific manufacturing techniques and technology to make this type of superb water bottle. Of course, these water bottles have become the best choice for people in offices and outdoor working. There are several reasons standing behind success and an increase in the value of the best water bottle.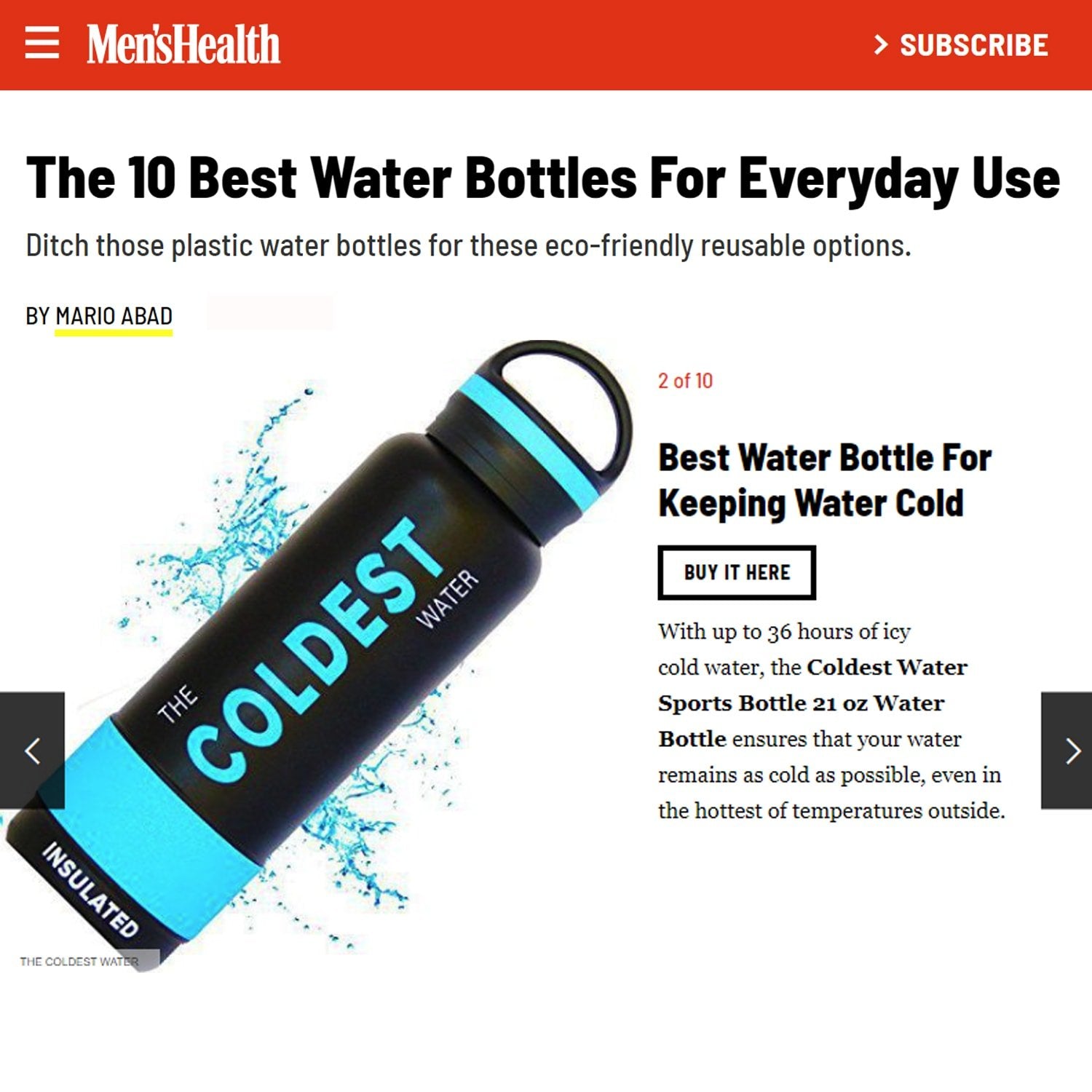 Trends to buy this water bottle is rapidly growing. Many reasons and facts are behind this increase in buying the coldest water bottle. In fact, this water bottle is believed as the best to keep water cold for the next several hours. This water bottle doesn't bring any change in the color and taste of the water. Some other reasons behind the popularity of the coldest water bottle are given below.
Key Qualities of Best Water Bottles:
The bottle has a very casual and user friendly design. Every user feels easy to pour into the water in the bottle and drink it. It has a simple, vertical and casual design. Structure of this bottle attracts the people. It is simple in shape, while it offers plenty of storage space. You can carry a sufficient quantity of water to be drunk a day. The best water bottle is easy to wash and clean due to a simple design. You can keep it clean and wash in a few seconds to prevent odor, germs and bacteria.
It offers you cold water for the next 36 hours and hot for 12 hours. The best choice of professionals in various industries and professions. It is increasingly becoming famous in America. The coldest water bottles offer an easy and strong grip to users for carrying a bottle filled with filtered water. The grip of Best water bottles is easy to hold as well as move with.

Things That Bring Coldest Water Bottles on Top:
The material of the coldest water bottle matters more than its other features. The best water bottle is made up of supreme stainless steel quality. It gives the bottle a stable and rigid shape. Super grade stainless steel is several times better than plastic and other materials. It doesn't let germs and bacteria grow inside the bottle due to easy and quick wash. It offers you more financial benefits by purchasing it from the manufacturer directly. The Coldest Water entertains its customers with a lifetime warranty on the best water bottles. However, the company offers this eternal warranty only on manufacturing faults. If you come to know such defects, you can claim for a replacement.