Have you ever wondered what kind of bottle you should take to the Gym that is travel friendly, big enough for you to not frequently refill it and that can prolong the coldness of your drink?
That is why we recommend to you The Coldest Shaker Bottle. This bottle is the best for your workout session at the Gym. It has the Coldest Minimal Look with a refreshed logo that has a smaller impact on the bottle. The bottle has a wide mouth and double insulated lid that pops open like a lock from a suitcase which helps to avoid the lid from getting dirty. When you unscrew the lid, it has a protein shaker attachment that is detachable when not needed. It can be easily detached and cleaned.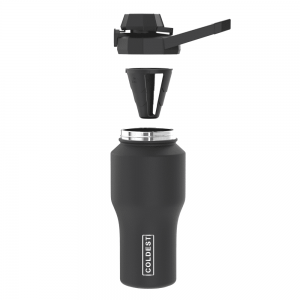 In most shakers, it is loud and obnoxious when being shaken, some of us do not prefer that kind of noise because of the irritation it brings to someone's ears, for the reason it is created with plastic materials that cannot prolong the coldness of your drink. In addition to the perks of The Coldest Shaker Bottle, it can preserve or prolong the coldness of your drink throughout your entire workout and beyond 36 hours because of its insulated feature. Because of the long hour of prolonging the coldness of your drink, this will help you maintain your coolness and always hydrated.
Sometimes, we drink too much, and we are too exhausted to refill our drink at the next refilling station beside the gym, that is why the size of the bottle is enlarged so you will not have to refill it frequently as normal as you do. Are you thinking about why the bottle is shaped like a reversed bowling pin figure? The reason for it is to perfectly fit in your cupholder in the Gym or your bags while traveling because most of the people going to their local gyms are commuting via public transport. Thereupon, it is very convenient to have that kind of bottle that is big for your water or any drink to be filled but can easily fit into your bottle holders or in your gym bags.
An additional perk for The Coldest Shaker Bottle is having the non-slip bottom which is made of rubber that prevents the wobbling effect when you are at the gym and doing your workout and have an impact on the floor where you put your bottle. Because of these kinds of features, your bottle will be durable, portable, and always cool so you can also fight the summer heat while you are at the gym. This will keep you always hydrated in a GYMazing workout.
Is the Coldest Shaker bottle the best gym bottle out there? Watch this video and you decide!
Be sure to check out the post between the Coldest Shaker bottle and Contigo Fit Shaker bottle here:
https://coldest.com/back-to-back-24hrs-temperature-test/
Disclaimer: All content in this video are for informational and entertainment purposes only and does not constitute certified or licensed experiment. Any content in this video should be considered expressions of opinions and not statements or facts. Feel free to perform your own experiments and make your own opinions.