"When I started my YouTube channel in 2010, I never imagined that one day it would be the most subscribed channel in the world and that I would be a part of such a great community." – PewDiePie
Felix Arvid Ulf Kjellberg was born on 24 October 1989, 31 years of age. He is known online as PewDiePie, a Swedish YouTuber and an internet comedian. He is the first person to ever reach 10 billion YouTube views.
PewDiePie was raised in Gothenburg, Sweden. He was born to Lotta Kristine Johanna and Ulf Christian Kjellberg. He grew up with his older sister Fanny. His mother was a former CIO, and was named the 2010 CIO of the Year in Sweden. His father is also a corporate executive. PewDiePie graduated from High school from Göteborgs Högre Samskola in 2008 and went on to study at Chalmers University of Technology. At a young age, he was interested in art and was an avid gamer during his days in high school despite his parents wanting him to play less. He eventually dropped out in 2011 majoring in industrial economics and technology management which makes PewDiePie's parents refused to support him financially. To earn money for his YouTube passion, he worked at a hot-dog stand and sold his artwork.
After which, PewDiePie decided to pursue a career with his YouTube channel, at a time when being a YouTuber was not seen as a career path. PewDiePie's channel experienced huge growth in popularity over the next two years, reaching 1 million subscribers in July 2012.
From 29 December 2014 to 14 February 2017, PewDiePie's channel was the most-viewed channel on YouTube for two years. As of January 2020, his YouTube channel has reached over 103 million subscribers and received 24 billion video views, ranking as the second most subscribed and thirteenth most viewed channel on the platform, and the most subscribed and most viewed channel operated by an individual. PewDiePie's average earnings per video is $37,722. https://www.youtube.com/user/PewDiePie/videos. While his instagram account has 20.9 million followers https://www.instagram.com/pewdiepie/
According to Forbes, PewDiePie's last year earned about $US15.5 million ($22 million), with advertisers "shelling out up to $US450,000 for a sponsored video". The magazine says gamers, of which PewDiePie is the most notable, remain the site's top money-earners thanks to clips that can be produced, edited and posted quickly, with the going advertising rate for top online talent "about $US5 per thousand views".
When PewDiePie started his channel in 2010, YouTube culture was not that loud. However, because of his genre "let's play" and to some combination of goofy charisma and algorithmic luck, PewDiePie's channel extremely blew up. In 2012, he hit a million subscribers. The following year, PewDiePie became the biggest channel on the site, and he started making serious money and was involved in various lucrative offshoot projects. This includes a deal with the Disney-owned Maker Studios and this makes PewDiePie more popular with American teenagers than Katy Perry, Johnny Depp or Leonardo DiCaprio in 2014.
PewDiePie's signature is the bro fist that he does at the end of every video. He also posts vlogs time and again and has a following of any mainstream media. Thus, In 2015, he released his own game called PewDiePie: Legend of the Brofist.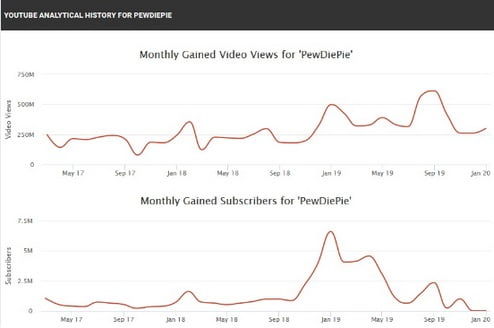 Photo from https://socialblade.com/youtube/user/pewdiepie
Photo illustrates that PewDiePie gained more subscribers in four months in 2018 than all of 2017. PewDiePie racked up more subscribers in the last four months of 2018 than in the entirety of 2017 because of theT-Series.
Indeed the 2018 to early 2019 T-Series vs. PewDiePie battle for supremacy was epic, captivating, confusing to mainstream media, and exciting for fans of Felix, memes, and all things internet.
Using statistics site SocialBlade, he worked to gain more than 13 million subscribers between September and December. It took him all of 2017 to gain 7 million subscribers.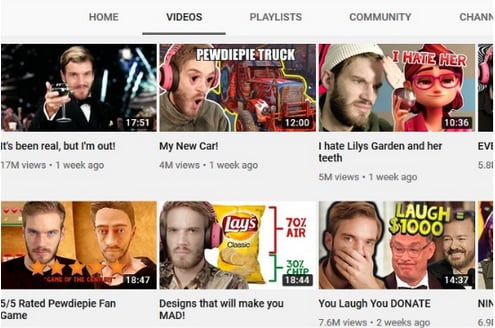 Photo from https://www.youtube.com/user/PewDiePie/videos
Felix "PewdiePie" Kjellberg is funny, intelligent, innovative and highly charismatic. He also has one of the world's biggest public platforms and a remit restricted only by YouTube's terms of service.
PewDiePie is not a particularly witty or nuanced comedian. His commentary on gaming is not all that incisive. Instead, he shows a cultural value that is particularly important to the YouTube culture. He comes across as 100 percent authentic and genuine.
Being one of YouTube's biggest celebrities definitely has its perks. PewDiePie might make it all look so effortless but it takes some killer technical gear to keep his operation running smoothly. Below are PewDiePie's desk setup and gear.
PewDiePie uses four different cameras. The first and primary camera that he uses to make his vlogs is Canon XA11. This is not a vlogging camera but it has got many features to offer. This camera offers Full HD 1080p video mode, Flip screen is available, 20x optical zoom, and HD CMOS Pro Image Sensor. This camera is being used for PewDiePie's indoor videos. Even with such a high audience, he is not leaving this camcorder as it is solely a video camera. For making travel vlogs, PewDiePie has a mirrorless camera aka Sony a7s II. The best Sony camera that comes with 4K video recording mode. This offers 4K UHD video recording, Wi-Fi and NFC enabled, Mirrorless compact camera, and Optical image stabilization. He also uses Canon PowerShot G7 X for his vlogging. This camera has a small size that can be adjusted in pocket as well. That being said, the camera is packed with amazing features to help a vlogger record video footages in every manner. This makes the file transferring system much easier as Wi-Fi and Bluetooth are already available. This offers Full HD 1080p video mode, CMOS high-quality image sensor, Durable construction, and Compact. For making better face cam videos, he uses the brand new Logitech Pro 9000 webcam. This offers Autofocus system, Carl Zeiss lens, Compact size, and Full HD video recording. Pewdiepie's setup would not be complete without something this stable so he uses ZOMEI Q111 55-Inch Professional Aluminium Camera Tripod.
PewDiePie also makes sure that lightning issues in his videos are being solved. He uses Neewer Camera Ring light device to make more light in the surroundings. This camera ring light comes with a diameter of 18 inches to 48 inches. Neewer Camera Ring Light is the gadget used by PewDiePie in his lighting setup. This offers Large Camera ring light, Consists of fluorescent light, and 18 to 48 inches in diameter. PewDiePie also uses a Neewer Softbox diffuser. This diffuser is able to collapse the light in order to make it soft and make it spread in almost all directions. This offers Diffuser to spread light, Reduce the harshness from light ring, and Perfect for spreading light equally.
On the other side, PewDiePie usually uploads twice a day, which is common for most gaming channels, but he has been doing this for almost ten years now. He may be loud and outrageous, but it is better having a personality than not having one at all. His style made him interesting to a lot of people where he continues to draw millions to his channel everyday. PewDiePie's thumbnails are extremely fun and interesting. They are part clickbait, part creative and it's what draws new viewers. His content is always new, fresh, and relatively short. Even when he's filming a video game series, he continues to mix it up with different forms of entertainment. He stays very connected to his fanbase, he is pretty honest and too candid, he reaches out to a lot of people, pays a lot of attention to his fans' input. Watching PewdiePie's videos is like listening to a friend, not a super witty or insightful friend, generally, but a friend who is consistently fun to hang out with and this makes him set apart from other influencers.
[button text="Shop the coldest water" link="https://coldest.com/product/the-coldest-water-bottle-21oz/?imt=1&utm_campaign=&utm_source=Youtube+21oz+&utm_medium=&utm_content="]
[button text="LEARN ABOUT OTHER INFLUENCER CASE STUDIES" link="https://coldest.com/influencer-case-studies/"]
[button text="Back to COLDEST influencer university" link="https://coldest.com/influencer-university"]