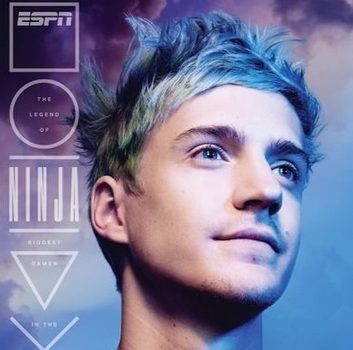 Richard Tyler Blevins or better known as NINJA (formerly NinjasHyper) was born on June 5, 1991, and is currently 28 years of age. He was born in Detroit but later on moved with his family to the Chicago suburb where he started playing video games and sports. He also played soccer and was also an avid video game player at Grayslake Central High School. Upon graduation, he then decided to play video games professionally which turns to entering tournaments, joining professional organizations, and live streaming his games.
Ninja is an American YouTuber, Mixer Streamer, a professional eSports Gamer, and former Twitch Streamer who is mostly known for playing and streaming Fortnite: Battle Royale. He portrays a goofy energetic personality, and incredible impressions.
Ninja was formerly known for live streaming himself playing Halo, H1Z1, and Player Unknown Battlegrounds (PUBG) before playing Fortnite, along with playing Realm Royale, Blackout, Sea of Thieves and Apex Legends beside his Fortnite journey. He successfully discovered streaming Halo and became the number one streamer online.
Ninja's YouTube channel currently has over 22.7 million subscribers and now has more than a million views each video. He is currently the most subscribed YouTube channel in the Fortnite community and now earns approximately $6,000,000 a year from live streams of his gameplay. https://www.youtube.com/user/NinjasHyper/videos
Aside from Youtube, Ninja's instagram has reached 14.9 million followers on where he normally posts video games and pictures of his daily life. https://www.instagram.com/ninja/.
Ninja is more known as a streamer and professional gamer. It started when his dad got addicted to games, he played all night. Young Ninja certainly followed his dad's footsteps. Ninja started playing competitively in 2009 and joined in his first tournament featuring Halo. He earned money by participating and winning tournaments with his current team, Luminosity. Ninja has two older brothers named Jon born on September 20, 1987, 32 years of age and Chris born on May 4, 1989 , 30 years of age. According to his brother Jon, when Ninja was about 10 year old, he started to beg him to play Halo.
Halo is a military science fiction media franchise centered on a series of video games managed and developed by 343 Industries, a division of Xbox Game Studios. Halo was originally developed by Bungie Studios. The series centers on an interstellar war between humanity and an alliance of aliens known as the Covenant.Wikipedia
Generally, Ninja mostly plays Fortnite. A lot of people call him the "best Fortnite player in the world" and look up to him for that widely shared opinion which thus creates more popularity for the game. He has self-proclaimed on his Youtube that he is also known for his "goofy energetic personality" and "incredible impressions" in his videos, and has been the fastest-growing Fortnite YouTuber since.
Fortnite is an online video game developed by Epic Games and released in 2017. It is available in three distinct game mode versions that otherwise share the same general gameplay and game engine. Wikipedia
Ninja started Youtube on November 10, 2011. He is in his 8th year in the business. He became famous around March 2018, when he started playing 'Fortnite Battle Royale.' His channel focuses on streaming video games online as his genre is on gaming or perhaps entertainment for some. Since then, he posts videos every day on his Youtube account and a lot of gamers have been hooked on his channel watching his videos. Though Ninja has no introduction or greetings nor does not have out throw, he manages to attract his viewers with the help of clickbait as his title seems to be captivating. Online gamers have been all throughout the world. They enjoy playing various types of online or digital games. Thus, they refer to any kind of gaming enthusiast. Ninja has caught these gaming enthusiast's attention to watch his videos every day with his goofy energetic personality as he portrays on his videos.
The turning point for the Ninja Fortnite gamer was in March 2018, when 600,000 viewers logged on to see him play with Drake and Pink, Travis Scott, and Juju Smith-Schuster. About 100,000 viewers were there to support Ninja. Playing with Drake that night took his gaming career to a new high and it has risen up since then.
Having won four major awards for streaming, and several gaming tournament trophies, Ninja continues to make his own character in the world of gaming, and he raised and funds various charities.
These viewers perhaps subscribed to his channel because he is not just streaming online but he also plays for a cause. A fundraising charity stream was held in February 2018, About $110,000 was raised and donated by Ninja to the American Foundation for Suicide Prevention . During the first Fortnite Battle Royale Esports event in April 2018, nearly $50,000 in prize money was given away by Ninja, with $2,500 of that going to the Alzheimer's Association. In month of April, Ninja also participated in another event #Clips4Kids where he was with other fellow streamers such as Dr.Lupo and Timthetatman, and in total, he helped raise over $340,000. At E3 2018, Ninja and Marshmello have won the Fortnite Pro-Am event which resulted in the donation of the $1 million prize to a charity of their choice.
Photo from https://socialblade.com/youtube/user/ninjashyper
Hence, the photo above illustrates how Ninja has gained on Youtube from Youtube Videos and Youtube Subscribers. Photo clearly shows that Ninja has gained a lot of subscribers every year. In Ninja's recent post, Youtube video has reached almost 2 million viewers in just 2 days and videos posted in a week has all reached in millions.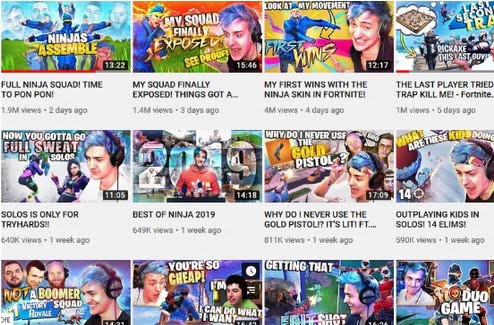 Photo from https://www.youtube.com/user/NinjasHyper/videos
When asked why he's become the face of the streaming community around the game, he explained why he believed people liked to watch him play. Ninja said that "I think I offer a combination of high gameplay, like high-tier gameplay that they really can't get with a lot of other content creators,". "It's very difficult to be one of the best at a video game, in any game, or at anything in all in the world. I also think I offer … I'm very goofy. If you've ever watched any of my streams or my YouTube videos I do impressions and stuff like that all the time. Just crazy shenanigans … It's pretty fun to watch, and a positive environment as well." https://www.polygon.com/fortnite-battle-royale/2018/4/6/17206166/ninja-fortnite-youtube-subscribers-twitch-followers
Therefore, this sets Ninja apart from other influencers. Ninja makes his videos not scripted and just all natural being himself. He makes sure that he enjoys what he is doing while showcasing himself on the video.
On the other hand, it is not easy to stay on top. Ninja spends about 12 hours a day in his basement studio playing live. That is why you should need to have better equipment to use every day. Ninja announced a partnership with Redbull in 2018. Red Bull recently partnered with Portland-based creative agency Roundhouse to help Ninja redesign his home streaming setup, his primary base of operations. Also, a Red Bull mini fridge is also included in this new set up.
Ninja uses a 4webcam and 3x Blackmagic cameras around his RedBull stream room. Four different Blackmagic URSA Mini Pro 4K 60 fps broadcast cameras in the room are able to see the action from every angle while a mixture of Electrovoice and Shure broadcast microphones capture audio. He uses the Black Magic Design Atem device to switch between his numerous cameras. Television Studio Pro contains 8 video and 4 audio inputs. The device is normally used for television purposes, but it also works well in an intricate streaming environment. To be clearer on camera, he also spreads some of the Neewer 126 LED light kit around his steam room.
Ninja uses the Electro-voice RE20 for his microphone that you can clearly see in his Red Bull streaming room. Also, there is a second microphone on his setup which looks like an Audio Technica dynamic microphone. Microphone arms are also being used as an important accessory, and Ninja uses Rode's PSA1. This microphone arm will help you to stabilize your microphone, so you can be completely focused on gaming. With it, you will easily be able to swing your microphone and change its position whenever you are comfortable while you are playing.
Creative Sound Blaster X7 Positive for gaming is also being used by Ninja to increase footsteps and background noise giving you a tactical advantage. You will hear clearer and more detailed with the creative sound blaster. So if you want to be a fortnight pro like Ninja, then you should definitely consider these items in your setup.
In conclusion, Ninja is just a simple guy who turns out to be competitive and someone who always wants to play the best. As Ninja says, "You have to be better than hundreds of people, thousands of people you have to be the best player to even win money from tournaments,".
So to the new ones, who wants to build a channel like Ninja, keep on going, pursue what makes you happy but with limitations whether it is for gaming or entertainment. As Ninja advises, most especially to the kids not to concentrate too much on playing video games for a living, but instead to secure their future.