If you know anything about makeup, then you know who Jeffree Star is. His powerful, larger-than-life personality has made him a name and a force on YouTube and you probably have more than a few items from his cosmetics line in your purse.
To be fair, he's been doing this for a long time. Jeffree Star first joined Youtube in 2006. His Youtube channel is full of makeup tutorials, product reviews and passionate takes on his personal life.
Jeffrey Lynn Steininger Jr AKA the world famous Jeffree Star, he is 30yrs of age born November 15, 1985, in Los Angeles County, California and raised in Orange County, California.
Jeffree Star is an American entrepreneur, make-up artist, singer, songwriter, DJ, and model. He is best known for his YouTube channel, He is the founder and owner of Jeffree Star Cosmetics and his transgressive, gender-bending appearances and persona.
Family background, his father Jeffrey L. Steininger committed suicide when he was just 6yrs of age and raised solely by his mother, Marra Shubyann Lindstrom Steininger.
In his tender years, Star started experimenting with his Mothers make up and he convinced her to let him wear it when he was in Junior high. He moved to Los Angeles after graduating from highschool and supported himself while doing part time as a Makeup artist, Modeling and Music jobs. Who would know that Star will be a big name in the world with his Youtube makeup tutorials, and reviews.
In 2009, Star used the then popular social networking MYSPACE, to broad his music and fashion to the social media. He blogged about his life while making social commentary on self-image, confidence, fame, beauty, and life. Star also released his first and only studio album, Beauty Killer, which included songs such as "Lollipop Luxury" featuring Nicki Minaj. In 2010, he signed to Konvict Muzik, whose founder Akon described Star as "the next Lady Gaga".
Youtube usename jeffreestar, Jeffree Stars Youtube channel currently has 17.3M Subscriber and has more than 10M views per video. Jeffree Star is earning around $20 million per year. As of 2019, Jeffree Star's net worth is $50 million dollars. First making his mark with a strong MySpace presence, once Star noticed people's love for his makeup looks, he translated his early venture into social media into a YouTube channel. As estimated by Cosmopolitan US, the beauty icon claims a net worth of $50 million USD (approx. $69 million AUD), with his YouTube revenue, sponsored post fees and earnings from his cosmetics line, Jeffree Star Cosmetics, all combining to make a yearly income that we'd gladly trade in our first borns for. In 2018, Star earned $18 million from his YouTube endeavours alone, according to Forbes. That was enough to make him the 5th highest-paid YouTube star as of December 2018. He has gained over 9 million subscribers and over 1 billion views as of 2018.
Jeffreestar is known for makeup tutorials and reviews about certain makeup products, he doesn't give biased reviews, that is why many people believe in him and follow his youtube channel. His channel is in available in 4K quality, obviously it is mostly a makeup tutorial and brand reviews thats why its needed to be in a high quality definition.
Star posts content in his Youtube channel every two weeks and views are always around 10-20 million per video. His opening is always "WHAT'S UP EVERYBODY WELCOME BACK TO MY CHANNEL, HI HOW ARE YAH?" (Holding and swaying a star shaped mirror as a magic wand.)
He currently has 15.7M followers on Instagram with him having a 5,979 posts as of January 22, 2020. Stars Instagram strategy is posting a really vibrant and loud colorful pictures, loud outfits,
Hairstyle, makeup. Everything is GLAMOUR. Everything is FASCINATING.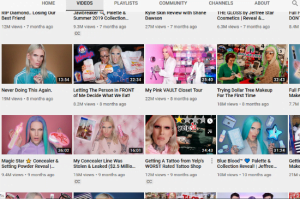 Star also uses a huge amount of money on his Youtube Content titles, attracting so many people. Precisely many youtubers, are always fascinated when huge amount of moneys are being used as a Subject of many youtube influencers. Many influencers uses this as their HIGHLIGHT whenever they will post a youtube content.