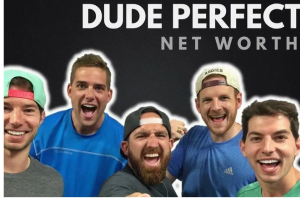 Dude Perfect is an American sports entertainment group that is known for their popular channel on YouTube. The group consists of twins Cory and Coby Cotton, Cody Jones and Garrett Hilbert.all of whom are former college roommates at Texas A&M University. The members of the group hold many Guinness World Records. Their YouTube videos have garnered over 9 billion total views and their flagship channel, "Dude Perfect," has over 48 million subscribers as of January 22, 2020.[2] The channel is the 2nd most subscribed sports channel on YouTube and the 10th most subscribed channel overall. Dude Perfect is said to be worth over $20 million.
They initially gained recognition when they started to upload sports videos on YouTube and received more than 200,000 views in one week.
Dude Perfect's net worth is estimated to be roughly $20 million as of 2020 and currently, they have over 5 billion viewers.
The most popular content created by Dude Perfect consists primarily of videos depicting various trick shots and stunts cut together with upbeat music mixed in. The group also regularly uploads videos of "battles," where the individual members of Dude Perfect compete against one another in a good-natured game or contest usually featuring elements and creative spins on different sports and a unique set of rules. A series of short comedy/satire videos called "Stereotypes," depicts Toney, Jones, Hilbert, the Cotton twins and others acting out humorous scenarios intended to ring true of common experiences and situations.                                                        On January 8, 2018, Dude Perfect launched a series called "Overtime," which mixes the lighthearted aspects of their other videos in a talk show parody format. On January 13, 2020, Dude Perfect launched their new series "Bucket List", which is doing things that they have always dreamed of.
Early Life
Everything began when the group started to bet sandwiches via basketball shots in their backyard which they recorded with a camera. They called their debut video "Backyard Edition" and eventually the video was released on YouTube.
Afterwards, a trick shot video from the Christian summer camp Sky Ranch was released, which now has over 18 million views; for every 100,000 views the video received, Dude Perfect pledged to sponsor a child from Compassion International. Afterwards, ESPN's E:60 contacted the group for a segment, and on the third floor of Texas A&M's Kyle Field, Toney converted a shot, which traveled 3.9 seconds, a world record at the time. The shot prompted television appearances on ESPN's First Take, Pardon the Interruption, Around the Horn and SportsNation. Dude Perfect introduced the Panda mascot, who "developed a cult following at A&M basketball games" when taunting players of the opposing team.
Dude Perfect has collaborated with some of the best athletes all over the world, including the likes of Serena Williams, Aaron Rodgers, Chris Paul, Morgan Beck, Luke Bryan and Ricky Stenhouse Jr.
Popular follower increase
Later, the group received professional endorsements and requests, which began with the-Sacramento Kings player Tyreke Evans, in an effort to promote Evans' run for Rookie of the Year.Dude Perfect also appeared on Season 6 of Rob Dyrdek's Fantasy Factory. Dude Perfect also worked with Green Bay Packers quarterback Aaron Rodgers, NBA star Chris Paul, Australian bowler Jason Belmonte, actor Paul Rudd, singer Tim McGraw, Seattle Seahawks coach Pete Carroll and quarterback Russell Wilson, Ryan Swope, volleyball star Morgan Beck, Heisman Trophy winner quarterback Johnny Manzie at Kyle Field,Miami Dolphins quarterback Ryan Tannehill, the U. S. Olympic team,NASCAR drivers Ricky Stenhouse Jr., Travis Pastrana, James Buescher and IndyCar Series driver James Hinchcliffe at Texas Motor Speedway,NASCAR driver Dale Earnhardt Jr., Cleveland Browns wide receiver Odell Beckham Jr., New Orleans Saints quarterback Drew Brees and coach Sean Payton, the Seattle Seahawks, and St Louis Rams players Greg Zuerlein, Johnny Hekker, Jacob McQuaide, tennis player Serena Williams and Country singer Luke Bryan.The team traveled to the United Kingdom to film a video with players of Manchester City F.C., Arsenal F.C. and Chelsea F.C.
Subscribers 48.8 million total views 9.82 billion.
Trickshots

Stereotypes

Battles

Overtime

Games with Consequences

Bucket List
Highlights
Here are some of the best highlights of Dude Perfect's career:
The most popular and viewed videos on YouTube
Ping Pong Trick Shots (59 million views, uploaded 2014)
Nerf Blasters Edition (96 million views, uploaded 2014)
Bowling Trick Shots ( 84 million views, uploaded 2014)
Soccer Trick Shots (65 million views, uploaded 2016)
World Records (77 million views, uploaded 2016)
Marksman Trick Shot (20 million views, uploaded 2016)
Extreme Pogo Sticks (43 million views, 2015)
Paper Airplane Battle (58 million views, 2013)