Drinking Water and Liquids | 1 Gallon Coldest Water Bottle
The point of 'Drinking Water' to the point of 'Drinking Water from The Coldest Water Bottle' is a huge mental gap/space with many hurdles (#H) on the way. It can only be overcome by a 'knowledge Race'. Want to join? Let's Start with the easy ones first.
#H-01: How Much on Average a Healthy Adult Need to Drink Daily?
The National Academies of Sciences, Engineering, and Medicine (NASEM) resolved that an adequate quantity of daily fluid intake should:
For men about 3.7 liters = 125 oz and for women about 2.7 liters = 93 oz,
These recommendations cover fluids from water, other beverages, and food. About 80 percent of daily fluid intake is fulfilled by drinking water only.
#H-02: What is the Best Water Bottle to Drink?
Three options: Glass, Plastic, and Stainless Steel water bottle.
The glass is surely not in the race now as it is inconvenient, breakable, low recycling rate, not allowed everywhere.
#H-03: Which is Best Water Bottle to Choose, Plastic or Stainless Steel?
The obvious choice is the Stainless Steel water bottle for the following reasons:
High-quality Stainless steel water bottles are chemical-free, rust, corrosion and stain resistant, eco –friendly, sustainable, don't retain flavors and keep your water hot or cold for longer.
#H-04: Which is the Company Offering the Best Stainless Steel Water Bottle?
Studying the similar products available in the market and their user review there is clearly one winner: 'THE COLDEST WATER BOTTLE'
Offerings:
The Coldest water Bottle – 21 oz; Coldest Bottle – 32 oz; The Coldest Bottle – 64 oz; Coldest Tumbler; The coldest Ice Packs and their upcoming long-awaited Product: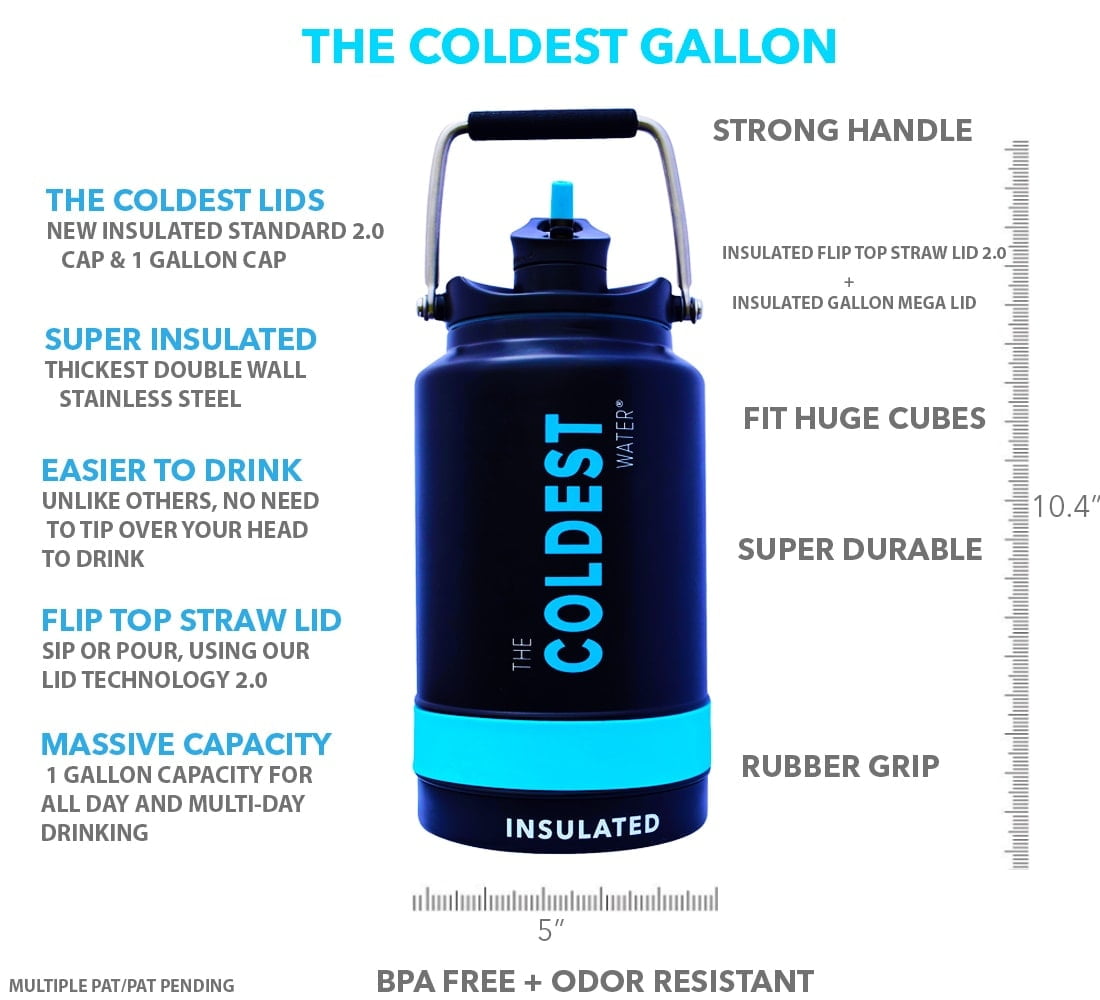 The Coldest Water Bottle – 1 Gallon (The Premium Growler): Let's check it out.
Capacity:
1 Gallon (128 oz)
Function:
Keep water cold up to 36 hours /Hot up to 13 hours
Behind the Scene:
After over 1.5 years of hard work in development, and after filing multiple patents the outcome is 'The Ultimate Growler': Far superior in functionality and design over any existing bottles.
Unique Feature:
No need tip it over the head to take a drink.
Features:
Superior Build – Built of true stainless steel, double wall material, topped with a powder coat, is fully insulated, No-Sweat Technology, Odour Resistant, Multiple integrated cap technology -Standard Lid 2.0 – Our latest, and greatest Flip Top Lid.
Convenience:
Perfect size, Rubber Grip, big Strong heavy duty non-breakable handle for confident carriage, Easy to clean, Floats on water – no fear of losing it while swimming.

Safety:
Eco-friendly, 100% BPA-Free and Toxin-free, Non-Leak enclosed bacteria resistant cap
Purpose:
Water Bottle Built for Athletes and High Performers.
Lifetime Warranty:
Against manufacturer defect:
Motto:
'One bottle, to rule them all'
Tag Lines:
We believe in our products and understand you need to too. We understand you need the best. /No cheap materials. No cutting corners. /Quality is everything. Built by Engineers
Advice/ Recommendation:
Hand washes/rinse it, no use microwaves or freezer. It can carry pretty much anything, from cold water to juice, beer, liquor, chocolate milk, soup tea, etc.
At the end of this race, the 'toughest' hurdle left for us is to make a better 'Choice'. The Choice is to shift from using Plastic Water Bottles to the Stainless Steel Water Bottles ones – particularly the futuristic innovative product The Water Coldest Bottle – 1 Gallon (The Premium Growler) coined as 'The Ultimate Growler' by THE COLDEST WATER – a startup comprised of a small passionate group of enthusiast in Naples, Florida(USA).
This Choice is for our own health, for the health of our family and that of our planet. The choice is yours.