Want to buy a water bottle but confused among so many options? Take a look at the top 8 picks of 2020 and choose the most suitable one.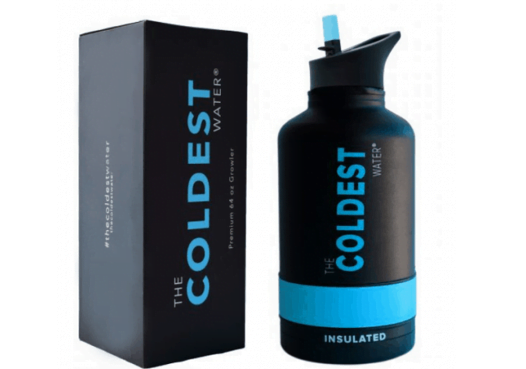 This stainless-steel water bottle is specifically designed to meet the requirements of the active sportspersons. It is easy to carry and the wide flip-top lid allows one to drink effortlessly with one hand. Being free from the use of cheap material, it will make your every single drop of water completely safe.
Well suited for hot and cold beverages, this tumbler comes with double-wall, vacuum-sealed features. The design gives you the flexibility to take it anywhere. Being stainless steel, it is 100% BPA-free and toxin-free, easy to clean and reusable that will last years.
Looking for a water bottle that is stylish and can be easily accommodated into a backpack? Coldest 64 Oz Bottle will definitely interest you. The leak-free cap will keep your belongings safe and the bottle will keep the water cold for at least 36 hours or more. What's more? This bottle doesn't sweat at all.
Moving onto the taller versions, this bottle will accommodate more quantity of water. Built with the highest quality of material, the bottle will live as long as possible. The bottle also has the ability to float in the water, so this way you would never lose it when taking a dip in the swimming pool or the ocean.
Neither too big nor too small, this perfect sized water bottle comes with a rubber grip and big handles for easy carrying. It is designed in a way so that it can easily fit big ice cubes, giving you ice cold water to drink every time.
Want your kid to stay hydrated? Then start it by getting him/her a Coldest 12 Oz Kids Bottle. The design of the bottle is crafted keeping the needs of the little one in mind. It can be easily held by little hands and the spill-proof top lid will avoid water leakage.
A small bottle is not being able to meet your requirements? Then switch to Coldest 1 Gallon Jug from traditional water bottles. It is the first of its kind that doesn't require tipping over to take a drink. Make use of the straw and sip away.
The bottle has a true double-wall of stainless steel, however, that doesn't mean it adds to the weight. It is lightweight yet strong and durable, staying by your side for a very long time.