Have a really cool or designer water bottle? That's amazing but what's better is a bottle that has some accessories. Water bottle accessories are a great addition for your everyday bottle use. If you are planning to buy some, here are a few suggestions.
WIDE MOUTH FLIP TOP LID 1.0 (FOR 32 OZ + 64 OZ)
Wide Mouth Flip Top Lid 1.0 (For 32 Oz + 64 Oz)
Are you a high performing professional athlete? Do you indulge most of your time in practicing the sport to achieve perfection? Then surely a water bottle must be a part of your kit because staying hydrated is essential. But there are certain bottles that make it difficult to drink with one hand without spilling some water. If you wish to stay clear of that clumsiness, Wide Mouth Flip Top Lid 1.0 is one such bottle accessory that you are in need right now. When put on the mouth of the bottle, it allows you to drink effortlessly with one hand. The products is BPA Free, and easy to clean.
INSULATED WIDE MOUTH FLIP TOP LID 2.0 (FOR 32 OZ + 64 OZ)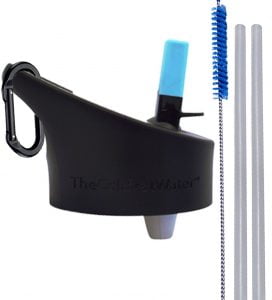 Insulated Wide Mouth Flip Top Lid 2.0 (For 32 Oz + 64 Oz)
Like to sip water rather than drinking a large amount of it in big gulps? An insulated wide mouth flip top lid 2.0 will be a perfect accessory for your water bottle. The cap will ensure that you don't spill the water. By adding it to the bottle's mouth, you can simply flip the bottle and enjoy the refreshing taste of the water or any other drink that you prefer. The cap is compatible with HydroFlask Wide Mouth Bottles, Kleen Kanteen Wide Mouth Water Bottle, Simple Modern Wide Mouth Bottles, etc.
THE COLDEST WATER BOTTLE BRUSH: 3 TOOLS IN 1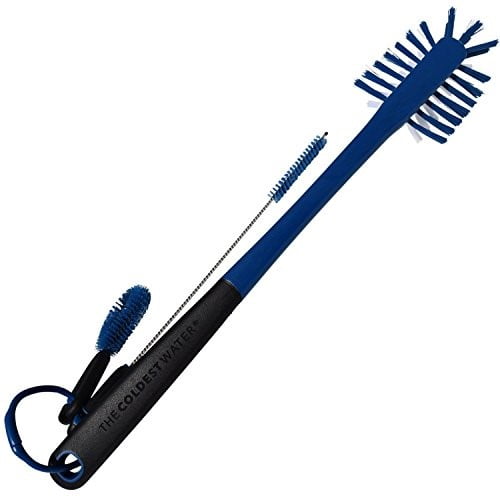 The Coldest Water Bottle Brush: 3 Tools In 1
Like to put in different flavored drinks in your go-to bottle? Then, you know how important it is to clean it thoroughly so that the scent and flavor are properly washed off. You can use old methods to get rid of the odor but it will not prove effective because your bottle is long and cylindrical and needs a special cleaning tool that can reach the bottom. With 3 in 1 bottle brush, you will be able to easily clean any type of bottle, straw, and cap.
BOTTLE GRIPS
Another important bottle accessory that is making a trend is bottle grip. You can find it in an assortment of colors and can change it every day to give your bottle a whole new look. It will also prevent the bottle from slipping off from your hands. All in all, it will bring function and fashion together.
COLDEST WATER BOTTLE SLEEVE V2
Coldest Water Bottle Sleeve V2
We have all been through the experience in which the bottle gets too cold or hot to handle with bare hands. Luckily, there's a solution available for the same. With water bottle sleeve you can put hot or cold beverages into the bottle and carry it without any issues. It also comes with a little pocket in which you can carry sugar pouches, tea bags and more.